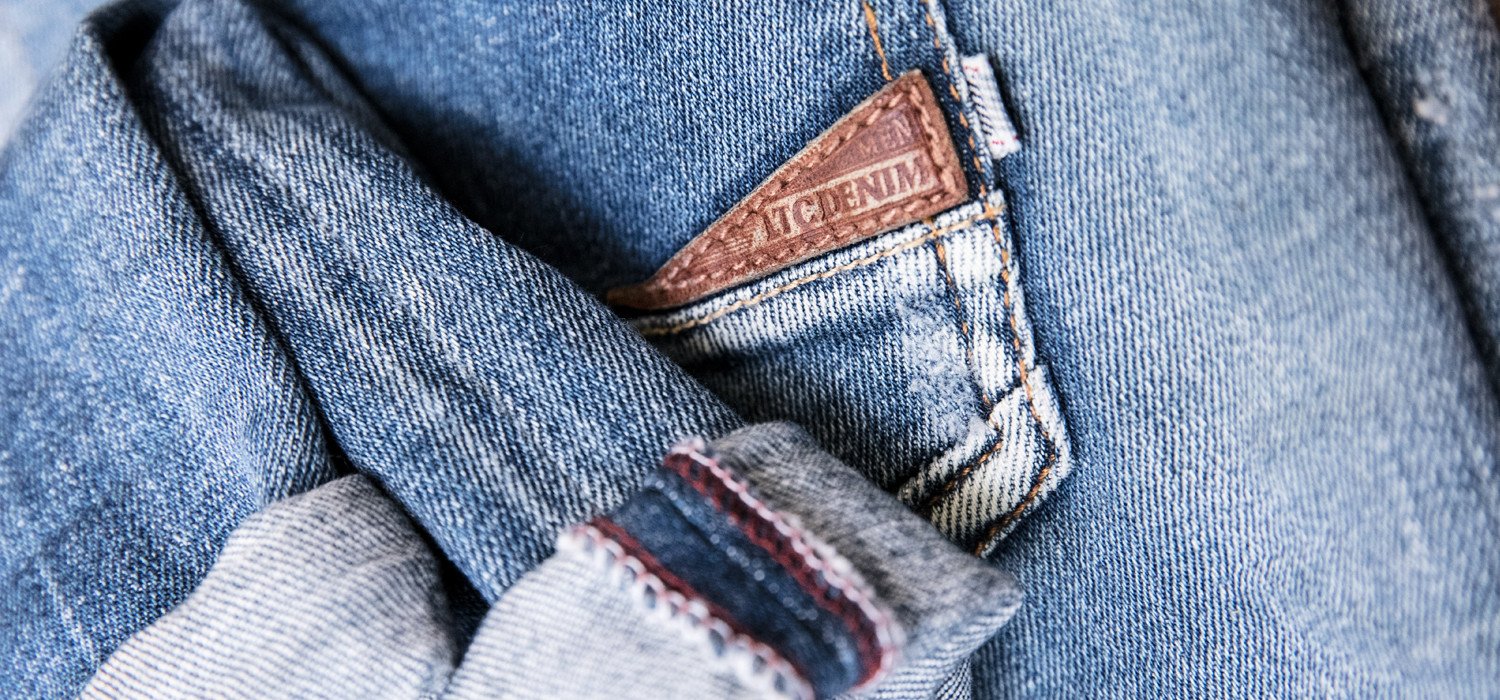 JEANS AND THEIR COLOR
The wear and the many washes have more or less important consequences on the colour of a pair of jeans and its quality. It is important to know that the colour of the jeans is fixed differently depending on the type of trousers. Raw blue jeans, for example, have an unstable colour. The natural pigment it contains, indigo, covers the white denim fabric without being deeply embedded in the fibre. The risk if you don't take the necessary steps to fix its colour from the start: that it will lose its beautiful shade and/or bleed onto your other clothes. Faded jeans, on the other hand, undergo various chemical treatments that allow them to have a slightly better colour fixation.
METHODS FOR FIXING SUSTAINABLY THE COLOR OF JEANS
Several simple, quick and natural methods exist to fix the colour of your new jeans before wearing them. Your women's blue jeans will stay blue. No need to buy chemicals! The planet and your wallet will thank you.
1. QUICK METHOD FOR FIXING THE COLOR OF YOUR JEANS
Before washing your jeans for the first time by hand or in the machine, soak them in a basin containing warm water and white vinegar. For the dosage, count two litres of water for half a cup of white vinegar. Always turn your jeans inside out and lay them flat before soaking.
2. OTHER METHOD FOR FIXING THE SHADE OF YOUR JEANS
If you have more time, put your new jeans in a basin containing two litres of warm water, half a cup of white vinegar and a handful of coarse salt. Turn your jeans over beforehand while laying them flat and leave them to soak for half a day. You can then machine wash or hand wash them without ever exceeding 30 degrees.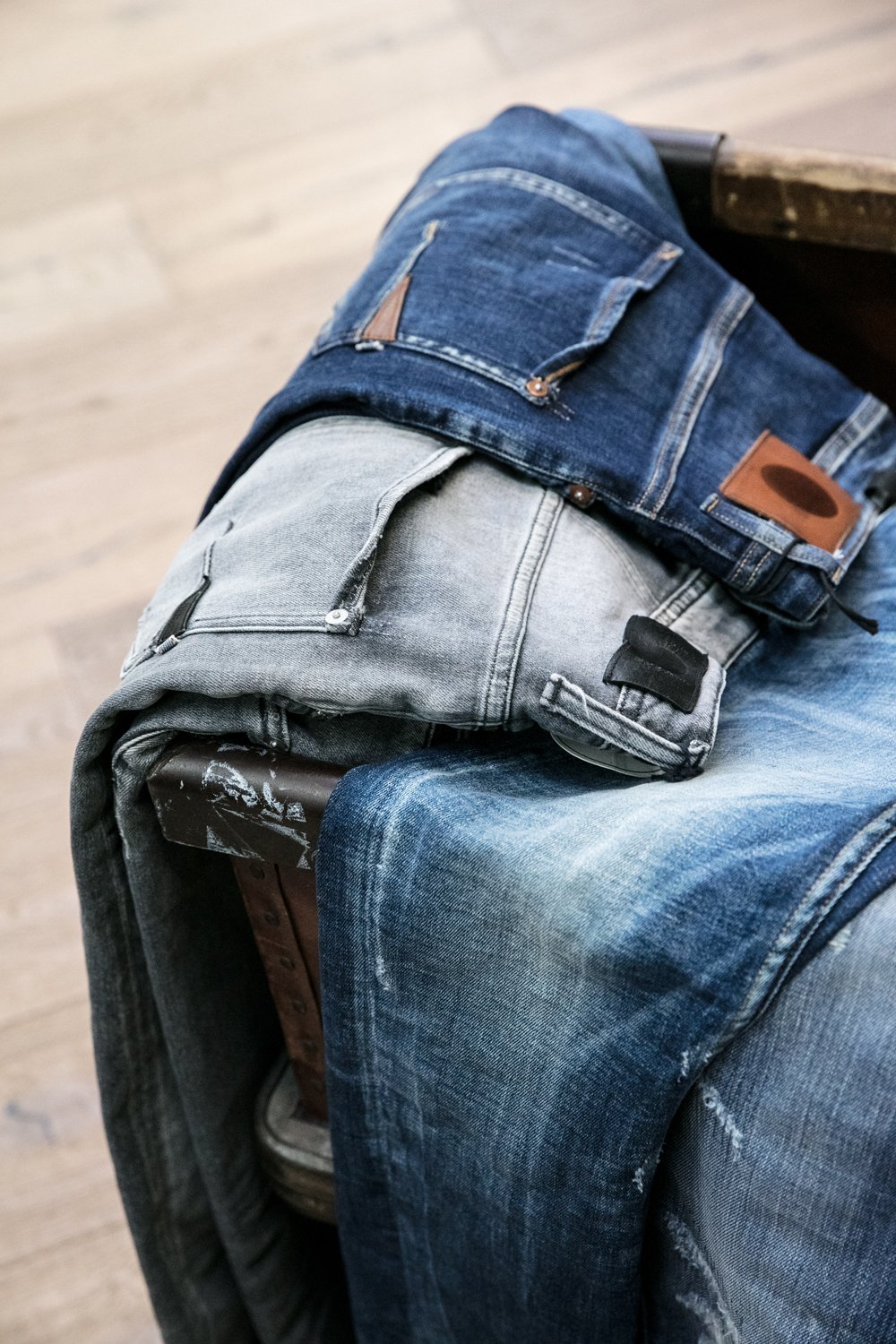 TIPS FOR KEEPING YOUR JEAN COLOR LONGER
Great, you've followed the advice above. But for long-lasting colour, it is necessary to adopt small gestures on a daily basis and over the long term to take care of your jeans.
1. GENTLY TIDY UP YOUR BLUE JEANS
Taking care of your jeans to keep their colour at its best also involves small gestures that should not be neglected on a daily basis. Make sure you store your jeans well to avoid damaging them. It may seem logical or perhaps exaggerated, but it's easy to be careless with your jeans. This can result in premature wear and tear and faded colour of your favourite blue jeans. This is noticeable in whiter areas where the jeans are misfolded, for example.
2. PAY ATTENTION TO THE POCKETS OF YOUR BLUE JEAN
PRemember to empty the pockets of your denim trousers and simply avoid filling them unnecessarily with bulky objects that will widen and deform your trousers. This bad habit can wear out your jeans and alter their colour in places. When pockets are overfilled too often, they tend to whiten and take on the shape of the objects they contain.
3. AVOID THE DRY CLEANER AND DRYER FOR YOUR BLUE JEANS.
Taking your jeans to the dry cleaners and put them in the dryer, it's practical and quick. You can even feel like you're looking after your jeans perfectly. Well no. It is best to avoid pressing your jeans too regularly, which uses products that can weaken the fibers of your jeans, and to damage their color over the long term.
Be aware that these methods and tips can be used for all your denim pieces. You'll keep your denim clothes looking better for longer!
Are you looking for jeans in a quality shade or carefully washed? Discover our wide collection of jeans!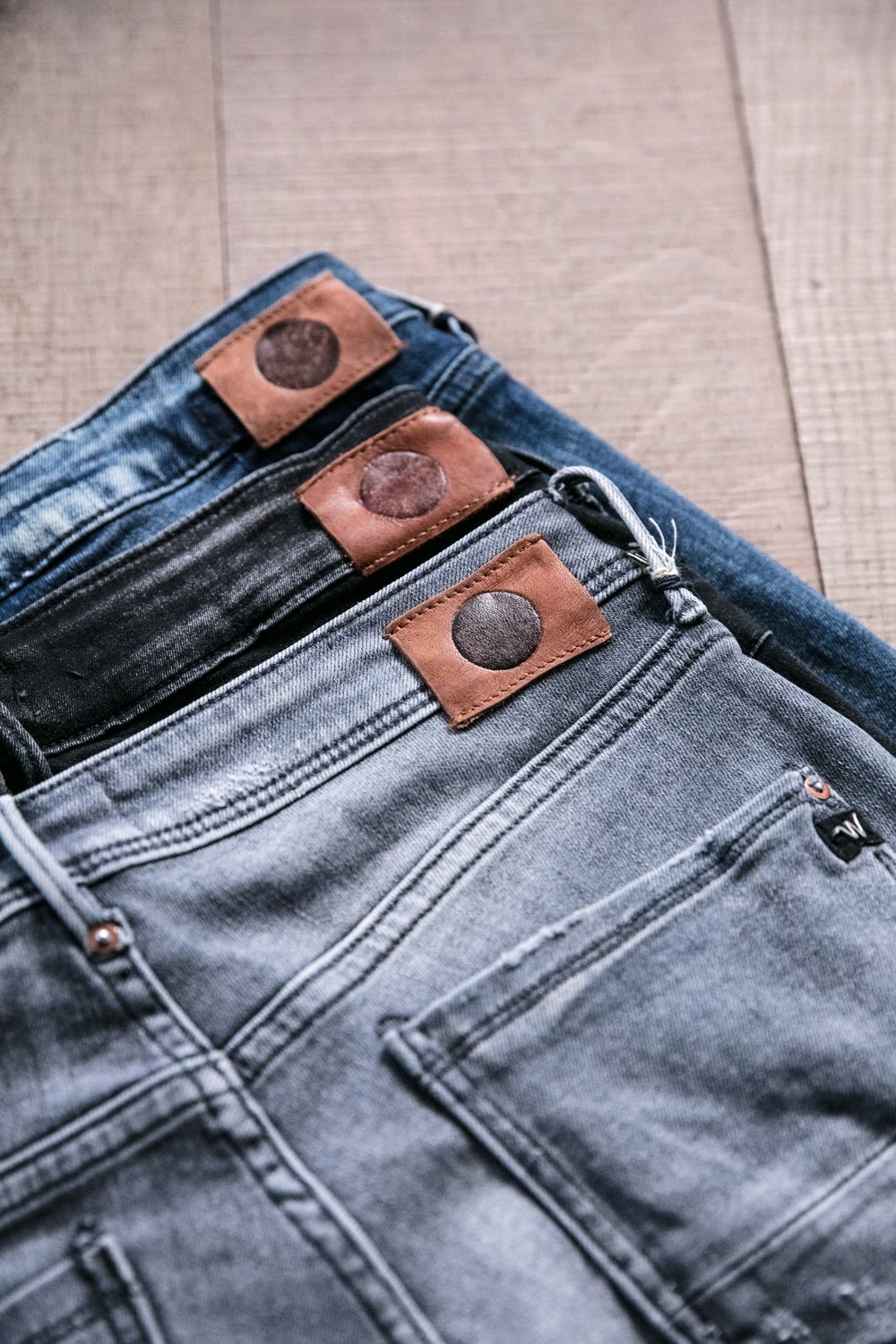 TAKING CARE OF YOUR JEANS TO PRESERVE THEIR COLOR
There are a few basic rules to keep in mind so that a pair of jeans will keep their colour and shape longer.
Don't wash blue jeans too frequently.
An obvious but not always respected piece of advice: don't wash your jeans too often, otherwise they will bleed too quickly. It is advisable to clean them every 5 to 6 uses. Impossible for you? You can buy specific products to clean them without water if necessary.
1. USING THE RIGHT PRODUCTS FOR HIS BLUE JEANS
Choose a special denim detergent without bleaching agents to gently wash your jeans in the machine without any impact. You can also use colour-fixing salts for cold washing. They stop the fading of your blue jeans and fix the colour for a long time.
Finally, remember to clean it at 30 degrees maximum so as not to damage the canvas and preserve its colour even longer.
2. SORTING YOUR LAUNDRY TO PRESERVE YOUR BLUE JEANS
To avoid fading accidents, never mix your light jeans with dark-coloured clothes in your washing machine! The same goes for your dark jeans, they should absolutely not be washed with your light-coloured clothes. The same goes for the tumble dryer, avoid mixing your dark and light-coloured clothes. It is also preferable to let your jeans dry in the open air to keep their colour intact for longer and prevent them from warping